by Barry Drogin
Previous Chapter - Back to guide - Next item in guide - Back to index - Next item in index - Next Chapter
CHAPTER III: A BRIEF HISTORY
The origins of Oedipus Rex can be traced back to September of 1925, when IS traveled to Venice and Genoa and discovered the book about St. Francis of Assisi. Upon his return to Nice, IS decided to use a Greek myth for his opera, and contacted Jean Cocteau, who was living only a few miles away.
IS had greatly admired Cocteau's version of Antigone. Together they decided upon Sophocles' 0edipus Rex for a subject, and hoped to complete the work by the spring of 1927 and present it as a gift to Diaghilev upon the twentieth anniversary of his association with the Ballets Russe. Therefore, Diaghilev was never involved in the conception or development of the work; it was kept a secret up until the last moment.
Two months and two drafts passed by. In November, IS went on tour again, but when he returned in January, 1926, he was greeted by the first part of the final version, translated into Latin by Jean Danielou, a friend of Cocteau's. IS set to work immediately. More concert engagements intruded, but by mid-summer IS was able to settle down and work continuously through the fall and winter.
The score was completed on March 14, 1927. The orchestration was not completed until May 10, only twenty days before its May 30 premiere.
Due to lack of funds, the first performances were presented in concert form with no costumes or set. They took place at the Theatre Sarah Bernhardt, burdened with the unfortunate circumstances of being sandwiched between two grand Diaghilev ballets. The audience was not impressed, and Diaghilev called it "un cadeau trés macabre."
IS was much more satisfied by Oedipus's first performance as an opera under Klemperer in Berlin in February, 1928, and its return to Paris as an opera at the Salle Pleyel in May, 1928, a year after its premiere.
Published copies of the score include a sketch drawn by Jean Cocteau of the desired staging of the opera, dated June 15, 1927. An accompanying text explains that the set is to have no depth. The characters are to be dressed in costumes that allow only the singers' arms and heads to move, giving the impression of living statues. Only the choristers' faces are to be visible. The Narrator is to be dressed in evening dress, and speak like a lecturer. These directions were unfortunately ignored in the first productions of Oedipus around the world.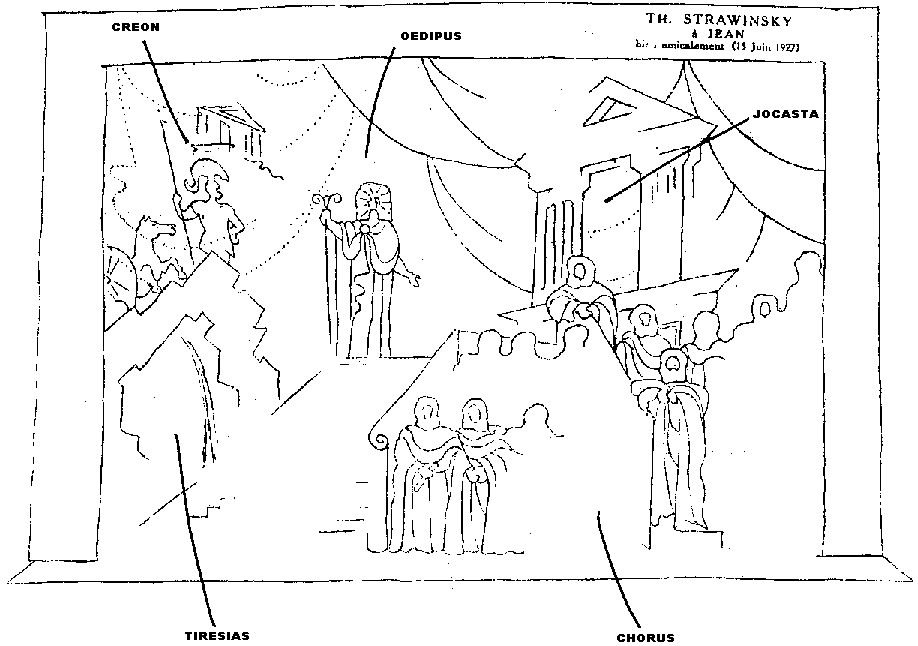 Previous Chapter - Back to guide - Next item in guide - Back to index - Next item in index - Next Chapter
A Musical Contrarian © 1980, 1999-2007 rights@notnicemusic.com
First Posted: October 4, 2004/Last Updated: August 4, 2007