Project Engineer for the Perspective Dental Imaging System for Dentsply/Equipment Division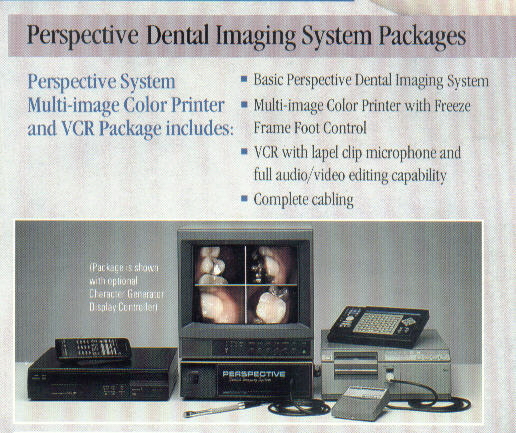 Although the PERSPECTIVE Dental Imaging System might appear to be a simple collection of three products manufactured elsewhere - a dental imaging camera, a Sony monitor and a Canon printer - the project actually involved custom engineering work within the Dentsply/Equipment Division manufacturing plant in Long Island City. The Canon printer, in particular, had to be customized to operate properly in a dental office setting. The standard model would capture a still shot and return to live video; the PERSPECTIVE Dental Imaging System had to capture a still shot and keep it displayed on screen so that the dentist could decide whether it should be rejected and re-shot or saved for printing and display to the patient. Canon, located in Japan, reprogrammed a custom line of their printers for Dentsply, and even printed the Dentsply company logo on the custom line.
Furthermore, the Canon printers then had to be modified in the Long Island facility to accomodate a front-mounted foot switch connector. I designed a flexible circuit board with pre-mounted embedded pins so that the front panels of the Canon printers could be removed, holes drilled for the foot switch connector, and the connector easily soldered to the inside of the printer prior to reattaching the front panel.
The complete package included a VCR and character generator/keyboard as well. I designed a custom cart for transporting the entire system from room to room, as in a hospital setting. Because the Sony monitor was the heaviest component and had to be mounted at the top, particular care was required in locating the center of gravity and calculating the moment of inertia in case the cart was suddenly stopped by some obstruction on the floor. The Sony monitor had to be modified and anchored to the custom cart.
Dentsply is and was the largest manufacturer of dental equipment in the world, with several divisions located internationally. In terms of units sold and profit generated, the introduction of the PERSPECTIVE Dental Imaging System was considered to be the most successful product launch in the history of the firm. It was released to production in 1990.
My title at Dentsply was Project Engineer. I worked there from 1989 to 1993. In 1994, Dentsply moved the entire manufacturing and engineering operation to York, PA. Dentsply acquired Cavitron, the Xerox of hygienist ultrasonic scalers, prior to my employment there. While at Dentsply, I also created:
The 3003 Ultrasonic Scaler, an update to the popular Model 3000, using a digitally-controlled microprocessor based power supply, released to production in 1991. I was awarded a Design Patent for the front panel, which could be sterilized between patients (this was during the early days of AIDS awareness). I am still proud of the power supply design I created for the 3003.
The Prophy Center, a combination of the ultrasonic scaler, prophy-jet and endodontic units, released to production in 1993.
I also worked on several designs to address how to manufacture units that could be easily changed to different line voltages for use in different countries. All of the products I created for Dentsply were designed and tested to meet international safety, leakage current, and radiation standards such as UL-544, CSA 22.2, VDE 0750 & 0871, and IEC 601.1.

---

Important: Barry is currently working full-time and is only available for small after-hours consulting contracts.

---

This page © 2004-2007 Barry DroginLast Updated: July 6, 2007