"That which is hateful to you, do not do to your fellow. That is the whole Torah; the rest is the explanation; go and learn it."
---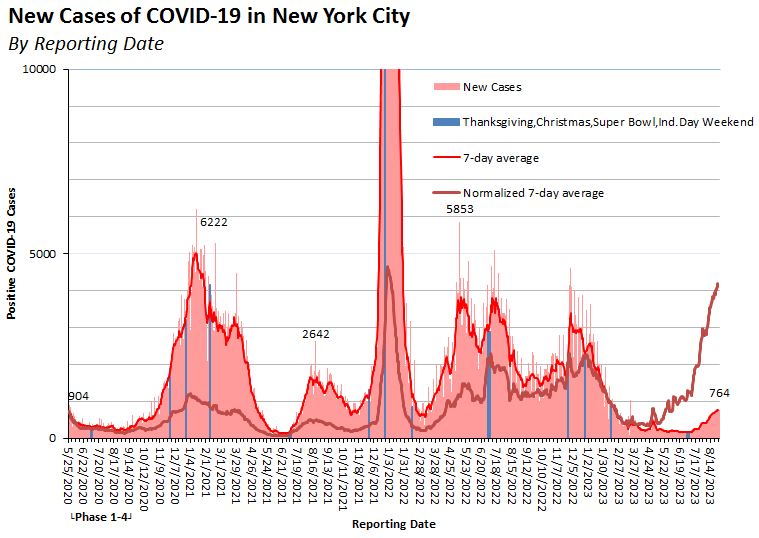 Quote of the Day (Wednesday, April 1, 2020, NYS Gov. Cuomo - Show the Country What It Means to Have Coronavirus)

On a personal note - my brother Christopher tested positive for the coronavirus. He's at home. He's doing fine enough. He has a fever, he has chills, symptoms of basically a very bad flu. I think this is illustrative in a number of ways. First of all, anyone can get this disease. Relatively young people, strong people, people who take a lot of vitamin pills. People who go to the gym a lot. Anyone can get this disease. No one can be protected from it. I couldn't protect my own brother. With all he knows, and as smart as he is, he couldn't protect himself.

I understand the data. I understand 80% self-resolve, 20% going to the hospitals. Christopher is not in the category that is problematic, by all the data he should have it, he'll have it for a period of time, and he will then resolve. If he has bad symptoms, he'll go into the hospital, he'll be treated, and he'll be released. That's what all the numbers say.

Even though that's what all the numbers say, when he told me he had the coronavirus, it scared me. It frightened me. Why? Because we still don't know. And even if there's just a 1 percent, 2 percent chance, it's frightening. And I deal with all sorts of stuff, and I've seen all sorts of things, and it frightened me. Why? Because we're talking about my little brother. This is my best friend. Basically, spent my whole life with him. And it is frightening on a fundamental level because there's nothing I can do, and I'm out of control, and there's nobody who can tell me. And this situation is the same situation for everyone.

I take solace in the numbers, and the facts, because you can't divorce yourself from the facts, otherwise you go to a place of irrationality. But we're emotional beings. And as an emotional being, it is frightening.

But I also want to say, he did a show last night from his basement. What a gutsy, courageous thing to do. In some ways this can be very instructive to many people. Because everybody wants to know. "Well, what happens if you get coronavirus?" And he does this show every night. Maybe some nights he won't be able to do it, but he does this show every night.

So, what's the positive? Show the country what it means to have coronavirus. And that information, that experience can be helpful to people. And that's why he did the show last night. Okay, I have coronavirus. But you know what? Here I am. I'm doing my show. I didn't fall over. I didn't collapse. It's not a death sentence. Here I am. I'm doing my show. Kudos to him. My pop would be proud. I love you little brother.
Edited for redundancy, grammar, and emphasis
Prior Quotes:

2020-03-31: If You're On The Subway, You're An Essential Worker
2020-03-30: Feels Like a Lifetime
2020-03-29: Call 3-1-1, Not their Precinct
2020-03-28: Stay Home for about Three to Four Days
2020-03-27: Ventilators, Ventilators, Ventilators
2020-03-26: The Density Control Measures May Be Working
2020-03-25: That's Not a Curve, That is a Wave
2020-03-24: We Are the Epicenter
2020-03-23: Parks and Playgrounds
Quotes may come from the day of posting, from a prior day, or from further back in time.
NYS Executive Orders: EO_202_1-12.pdf - OCR searchable PDF of Executive Order 202 and Continuations 1 through 12
---
Useful Info:
https://www1.nyc.gov/site/doh/health/health-topics/coronavirus.page - NYC Factsheet, flyer, and Daily Updates
https://www.opt-osfns.org/schoolfoodny/meals/default.aspx - Find a Free Meal (3 meals a day!) Location for your child
https://maps.nyc.gov/foodhelp/#map-page - Food Pantry Map
1-844-863-9314: Hotline Phone number for free mental health services (8,600 volunteers)
If there are long wait times, try this other resource: 1-888-478-1478 (M-F 9am-5pm)
You can also set up your own Virtual Support Group by using and distributing to all participants this PDF file.
https://mailchi.mp/council/march2020-412385?fbclid=IwAR0gmSZQdZS6MNmuhHCFEuQ_oW1GCVznpJxSOyOhxm1_BzrVEWEkCzsknoM - NYC Council Speak Johnson compilation of NYC Resources
https://www1.nyc.gov/site/doh/providers/health-topics/novel-respiratory-viruses.page - NYC Provider guidance (why you will or won't be tested)
https://www.governor.ny.gov/news/governor-cuomo-issues-guidance-essential-services-under-new-york-state-pause-executive-order - Original NYS Guidance on essential services
https://esd.ny.gov/guidance-executive-order-2026 - Updated NYS ESD Guidance on essential services
https://www1.nyc.gov/office-of-the-mayor/news.page - Mayor de Blasio transcripts, videos, executive orders / Combined Searchable Text File (2020-02-26 to 2020-03-24): http://www.notnicemusic.com/de_Blasio.txt
https://www.governor.ny.gov/keywords/health - Governor Cuomo rush transcripts (no q & a) / Combined Searchable Text File (2020-01-24 to 2020-03-25): http://www.notnicemusic.com/Cuomo.txt
https://www.google.com/maps/d/viewer?mid=1BwMKmViLAvjgVxkVxWMlVdwPZAa4BqtZ&ll=40.746138764712605%2C-73.53259034999996&z=8 - Metro Region map with cases per 10K (county)
https://coronavirus.jhu.edu/map.html - John Hopkins Map (country and state)
https://www.cdc.gov/coronavirus/2019-nCoV/index.html - CDC resources/facts
How to Help:
https://nychhc.networkforgood.com/ - NYC Health+Hospitals Donation Page
1-833-NYC-0040 - Call to volunteer with equipment, supplies, time
Combatting Misinformation:
https://www.who.int/emergencies/diseases/novel-coronavirus-2019/advice-for-public/myth-busters - WHO myth busters page
https://www.hopkinsmedicine.org/health/conditions-and-diseases/coronavirus/2019-novel-coronavirus-myth-versus-fact - Johns Hopkins Medicine Myth busters page
https://www.medicalnewstoday.com/articles/coronavirus-myths-explored - MedicalNewsToday myth busters page
https://www.cnet.com/news/coronavirus-health-myths-fact-checked/ - CNET myth busters page
https://blog.aboutamazon.com/company-news/how-amazon-prioritizes-health-and-safety-while-fulfilling-customer-orders - Actual Amazon policies and procedures
Samuel Volkin: According to a recent study published in the New England Journal of Medicine, SARS-CoV-2, the virus that causes COVID-19, can live in the air and on surfaces between several hours and several days. The study found that the virus is viable for up to 72 hours on plastics, 48 hours on stainless steel, 24 hours on cardboard, and 4 hours on copper. It is also detectable in the air for three hours. How worried should we be about our risk of becoming infected simply by touching something an infected person was in contact with days ago?

Carolyn Machamer: What's getting a lot of press and is presented out of context is that the virus can last on plastic for 72 hours—which sounds really scary. But what's more important is the amount of the virus that remains. It's less than 0.1% of the starting virus material. Infection is theoretically possible but unlikely at the levels remaining after a few days. People need to know this.

While the New England Journal of Medicine study found that the COVID virus can be detected in the air for 3 hours, in nature, respiratory droplets sink to the ground faster than the aerosols produced in this study. The experimental aerosols used in labs are smaller than what comes out of a cough or sneeze, so they remain in the air at face-level longer than heavier particles would in nature.

Source: https://hub.jhu.edu/2020/03/20/sars-cov-2-survive-on-surfaces/
Unintended Consequences:
https://www.facebook.com/1273491218/videos/10221626721158688/ - A British healthcare worker can't buy groceries at the end of her shift because of hoarding
My two cents: Please do not spread fake news on the Internet! Trust LEGITIMATE news sources and the governmental agencies themselves!
I normally wouldn't trust BuzzFeed - click-bait is their revenue model - but here is a list of some of the Internet memes being spread:
https://www.buzzfeednews.com/article/janelytvynenko/coronavirus-fake-news-disinformation-rumors-hoaxes - BuzzFeed list of hoaxes
---
Funny Papers:
As a professional theater composer with eclectic tastes, recently I've been "composing" mixtapes, using a variety of techniques to select and arrange the videos. A mix(tape) of emotions: humorous, serious, uplifting, calming. What they mean to me may not be what they mean to you.

Because these mixtapes contain material copyrighted by others, they cannot be embedded on this website; you will have to follow the links.
Your television is showing reruns, but these late night comedy shows are all on YouTube!
https://www.youtube.com/user/latenight - The Tonight Show Starring Jimmy Fallon: At Home Edition
https://www.youtube.com/user/JimmyKimmelLive - Jimmy Kimmel Live: Quarantine Minilogues
https://www.youtube.com/playlist?list=PLeskMkEaHJYdaYLD69iNAadg3klIHZBW5 - The Daily Social Distancing Show with Trevor Noah
https://www.youtube.com/channel/UCMtFAi84ehTSYSE9XoHefig/featured - The Light Show with Stephen Colbert
https://www.youtube.com/channel/UC18vz5hUUqxbGvym9ghtX_w - Little Show in the Big Woods (Full Frontal with Samantha Bee)
https://www.youtube.com/user/LastWeekTonight - Last Week Tonight with John Oliver
---
Response options: (unless you give permission, all responses will be confidential)

Send e-mail to barry@notnicemusic.com.
Send snail mail to Barry Drogin at 720 Greenwich Street #5T, NY, NY 10014 USA
Do NOT send text messages to my landline, 212-243-8784 - that would be pretty futile

I welcome constructive criticism, browser or device display issues, suggestions, or requests for help in finding particular information that will benefit New York City residents.

2020-03-25 Press Release

This page © 2020 Barry Drogin
Last Updated: April 2, 2020